Sat Apr 04, 2020 Video "POISON"were published
Motoko Hirayama dance Shakespeare.
『POISON』recreation
2019/ 3/22―3/24
Setagaya Public Theater, Tokyo
Choreographer, Director, Dancer=Motoko Hirayama
Cast=Yamato Kochi, Azusa Takeuchi, Aiichiro Miyagawa, Satoshi Nakagawa, Yoshika Shinohe
Scenography= Masahiro Norimine (Bungakuza)
Lighting design= Masayoshi Takada (RYU)
Music= Masamichi Shigeno
Sound design= Norimasa Ushikawa
Costume= suzuki takayuki
Make up= Mieko Ueda
Stage Manager= Dai Shibasaki
Graphic Design= TAKAIYAMA inc
Photography=Hiroyasu Daido
Filmed and edited by Ryohei Sasatani
Produced by NPO alfalfa
Funded by Arts and Culture Promotion Found
World Premiere= Toyohashi Arts Theatre PLAT, Aichi (2015)
Fri Sep 20, 2019 Premiere"sarcophagus"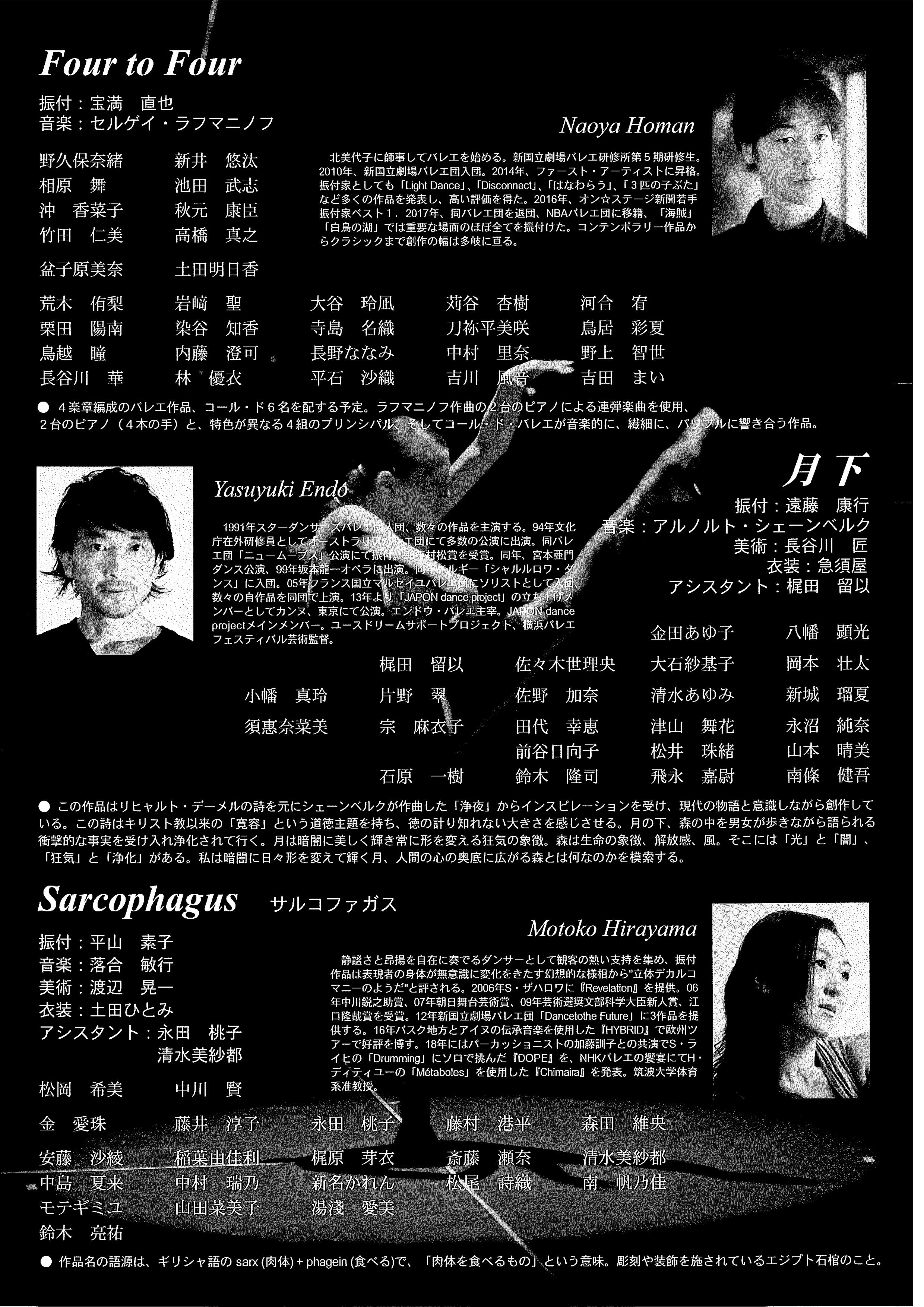 New creation "Sarcophagus"choreography by Motoko Hirayama
Will be performed Saturday, November 9, 2019.
This program is triple bill.
"Four to Four" choreography by naoya Homan
"gekka" choreography by Yasuyuki Endo

ticket contact→contact@motokohirayama.com

Event: Ballet Creathion 2019
Date: Saturday, November 9, 2019
Location: Mielparque Hall
Title: Sarcophagus
Choreographer: Motoko Hrayama
Music compose: Toshiyuki Ochiai
Art design: Koichi Watanabe
Costume design: Hitomi Tsuchida
Dancer:Selected by audition

Fri Dec 14, 2018 Releced a trailer "POISON "
Premiered in 2015:A trailer that edited the video of Tohohashi Arts Theater Produce Performance"POISON ~ Eat Shakespeare ~ ".
(camera: Tomohiro Konaga)